2014 Events
February 28, 2014
UnitedHealthcare Community Plan presents the 3rd Annual African American Symposium on Disabilities
Desert Willow Conference Center
4340 E. Cotton Center Blvd., Phoenix 85040

Tentative workshops will include topics such as
special education law, autism, positive behavior supports, employment law, mental health, foster care, assistive technology, diabetes, cardiovascular care, affordable health care act and more…

8.5 Continuing Education Units (CEUs) will be available.
Registration Deadline is Friday, February 21, 2014.
For registration assistance, contact David Carey at ABIL at davidc@abil.org or by phone at (602) 443-0723.
Register early - space is limited! Accommodations will be provided.
For vendor opportunities (Call for availabilty!), contact:

Renaldo Fowler, Arizona Center for Disability Law
(602) 274-6287 or
David Carey, Arizona Bridge to Independent Living
(602) 443-0723.
Bridgeway Health Solutions presents the 5th Annual Disability Empowerment Center (DEC) Health & Wellness Fair

Location:
Disability Empowerment Center of Arizona Campus
5025 E. Washington Street
Phoenix, AZ 85034

Campus Tenants:
Arizona Bridge to Independent Living, Arizona Autism United, Arizona Center for Disability Law, Arizona Spinal Cord Injury Association, Brain Injury Association of Arizona, Joni & Friends, Multiple Sclerosis Society, NAMI Arizona, Raising Special Kids, Symbius Medical, Statewide Independent Living Council, Valley Center of the Deaf and Virginia G. Piper Sports & Fitness Center for people with disabilities.

Dates/Times:
Friday, May 2, 2014 - 12:00 p.m. - 5:00 p.m.
Saturday, May 3, 2014 – 10:00 a.m. - 3:00 p.m.

Audience:
Event is FREE to the general public, including consumers, families, healthcare professionals in search of answers to the complex questions surrounding chronic illnesses and disabilities.

Event Description:
This 2-day health fair will offer multiple education, exhibition opportunities and health screenings to an estimated 1,500 attendees.

Marketing Opportunities:
Light Rail Kiosks
Valley Metro Bus Stop Kiosk
Static & Electronic Billboards
Radio Advertisement
Theatre Advertisement
EventProgram Advertisement
Inclusion on web site, flyers, social media, as well as other
Electronic Media (e-mail distribution groups)
On-site Banner Placement Advertisement
Promotional Mailers to over 13,000 households

Website: https://healthandwellness2014.eventbrite.com/
Deadline: Wednesday, March 5, 2014

For questions, please contact David Carey at (602) 443-0723 or davidc@abil.org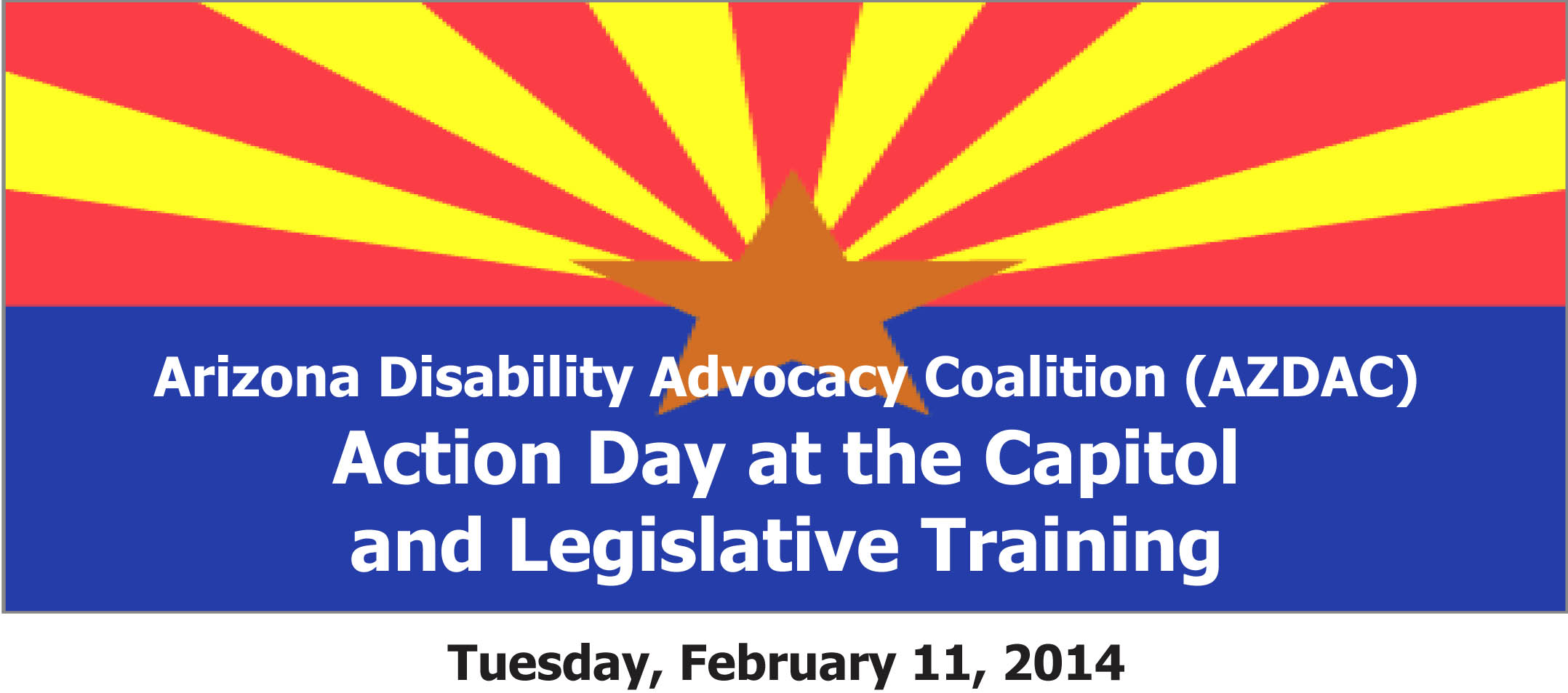 Time: 10:00 AM – 3:00 PM
3rd Floor Conference Room, Capitol Towers
1700 W. Washington St., Phoenix, AZ 85007

> Hear how Arizona Legislators plan to deal with the budget.
> Learn what disability issues AZDAC will be tracking this legislative session.
> Join us to be introduced on the floor of the House and the Senate.
> Observe the legislature in action.
> Learn how you can testify on bills from anywhere you have internet capabilities through the Legislative electronic system.
> While at the Capitol, register to use the "Request to Speak" system.
> Box lunch provided.

Registration for this event has closed.